The Power of Perpetual Education: How Lifelong Learning Shapes Your Career
May 22, 2023

Posted by:

Oyesh

Category:

Education
The dawn of the 21st century ushered in a significant shift in education. This metamorphosis is not confined merely to the physical architecture of classrooms or the traditional reliance on textbooks. It has fundamentally transformed our understanding of what constitutes education. Today, success is no longer solely measured by attaining a formal degree. Instead, it hinges on adopting a crucial principle – the power of perpetual education. This concept underscores the importance of continuous, lifelong learning over and above the conventional education system.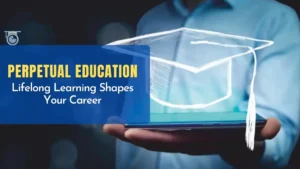 Understanding the Concept of Perpetual Education
Perpetual education, although straightforward, has far-reaching implications. It endorses the ongoing pursuit of knowledge and understanding throughout one's life. This perpetual learning process extends beyond the boundaries of formal education, embracing informal learning opportunities and life experiences. The fundamental tenet of perpetual education is a commitment to evolve and grow harmoniously with the ever-changing demands and challenges of life and work.
The emphasis on lifelong learning is particularly pertinent in today's rapidly evolving world, characterized by the increasing pace of technological change and a dynamic shift in work environments. This contemporary reality has propelled lifelong learning from a desirable attribute to an essential skill, driving professional success and personal fulfilment.
Lifelong Learning in Today's World
The digital revolution that characterizes our era has underscored the need for perpetual learning. Unprecedented technological advancements, combined with shifting work paradigms, have necessitated a relentless commitment to learning. Today, it's not just about acquiring knowledge; it's about continually updating it to stay relevant and competitive.
The Rise of the Information Age
The era we are navigating is often called the Information Age, marked by rapid knowledge creation and dissemination. In such a world where new knowledge and skills emerge astoundingly, individuals must proactively engage in perpetual education to maintain a competitive edge.
The Importance of Perpetual Education
Perpetual education plays a critical role in both personal and professional development. It is not just about adding more qualifications or skills to your resume; it is about consistently growing and evolving as an individual and a professional.
Personal Development
On the personal front, perpetual education fosters an environment of intellectual curiosity and continuous growth. It nurtures an inquisitive mind and cultivates an eagerness to explore, question, and understand the world around us. This constant quest for learning makes life a journey of discovery and enlightenment, adding depth and richness to our experiences.
Fostering Curiosity and Creativity
Curiosity is a fundamental driver of perpetual education. It is the force that compels us to venture beyond our comfort zones and plunge into the realm of the unknown. This spirit of exploration and discovery is closely linked to creativity, as it encourages us to view the world from different perspectives, seek novel solutions, and embrace innovative ways of thinking. Perpetual education feeds this curiosity, propelling us on an unending journey of learning and discovery.
Professional Development
In terms of professional development, perpetual education acts as a powerful catalyst. It urges us to stay abreast of industry trends and advancements, adapt to shifting job requirements, and continually enhance our skills and competencies.
Adapting to Industry Changes
In today's fast-paced world, industries are continually evolving. This constant flux presents both a challenge and an opportunity. Perpetual education prepares us to navigate these changes adeptly by equipping us with the tools and mindset needed to learn, unlearn, and relearn. In addition, it helps us remain flexible and adaptable, boosting our employability and professional value.
How Perpetual Education Shapes Your Career
Perpetual education plays a pivotal role in steering your career path. Your willingness and ability to engage in lifelong learning can profoundly impact your professional trajectory, opening doors to numerous opportunities.
Career Advancement Opportunities
Investing in perpetual education can significantly enhance your career prospects. As you consistently refine your skills and broaden your knowledge, you become a stronger candidate for promotions and career advancements. In addition, lifelong learners are often viewed as assets within their organizations, playing instrumental roles in driving growth and innovation.
Keeping Skills Current
In a world where the shelf life of skills is decreasing, perpetual education provides the platform to keep your skills fresh and relevant. In addition, continually learning ensures that you can adapt to changing industry needs, enhancing your professional effectiveness and proficiency.
Competitive Edge in the Job Market
In today's competitive job landscape, having an arsenal of up-to-date and relevant skills can give you an edge over other candidates. In addition, by fostering a mindset of continuous learning, perpetual education ensures you are always ready to seize new opportunities.
Embracing Innovation and New Technologies
The pace of technological advancements today is unprecedented. Being comfortable with learning and integrating these technologies into your work can significantly impact your career progression. Perpetual education instils the mindset and provides the tools to embrace these changes, keeping you ahead of the curve and enhancing marketability.
Harnessing the Power of Perpetual Education
Leveraging the power of perpetual education is not merely about being committed to learning. It is about intentionally creating opportunities for learning and growth in your everyday life.
Building a Learning Mindset
The first step in harnessing perpetual education's power is cultivating a learning mindset. This mindset sees opportunities for learning in every situation and views challenges as chances for growth and improvement. It is about being open, curious, and willing to venture outside your comfort zone.
Learning from Everyday Experiences
Everyday experiences provide a wealth of learning opportunities. The key is to develop the ability to reflect on these experiences and draw insights from them. This kind of reflection fosters deep learning, allowing us to learn from our successes and mistakes and failures.
Utilizing Available Resources
In today's digital age, many resources are available at our fingertips. Online courses, webinars, podcasts, and eBooks provide abundant opportunities to learn and grow. Leveraging these resources can significantly facilitate our journey of perpetual education.
Participating in Professional Development Opportunities
Professional development programs, workshops, and seminars offer valuable platforms for continuous learning. These opportunities allow us to stay updated with industry trends, network with other professionals, and gain practical insights into our field.
Conclusion: Embrace the Power of Perpetual Education
Embracing the power of perpetual education is an investment that pays rich personal and professional dividends. It nurtures a curious mind, promotes career advancement, and provides a competitive edge in a continually changing and evolving world. However, with the pace of advancements today, standing still is moving backwards. To stay ahead, one must engage in continuous learning, harnessing the transformative power of perpetual education.
FAQs: Power of Perpetual Education
1. What is the concept of perpetual education?
Perpetual education is the philosophy of lifelong learning. It is not confined to the traditional school system but transcends it to include the continuous, lifelong pursuit of knowledge and skills in formal and informal settings.
2. Why is perpetual education necessary in today's world?
In today's rapidly evolving world, staying current and competitive requires continuous learning. Perpetual education encourages consistently updating skills and knowledge, adapting to new technologies and industry trends, and fostering personal growth and intellectual curiosity.
3. How does perpetual education impact professional development and career advancement?
Perpetual education can significantly shape your career trajectory. By consistently updating your skills and staying abreast of industry trends, you increase your value in the job market and open doors for career advancement. In addition, employers value lifelong learners for their adaptability, curiosity, and innovative thinking.
4. How can I practice perpetual education?
Practising perpetual education involves cultivating a mindset of continuous learning and seeking out learning opportunities. This can include reading books, attending seminars, taking online courses, participating in professional development programs, or simply staying curious and open to new experiences.
5. How does perpetual education contribute to personal development?
Perpetual education fosters intellectual curiosity and personal growth. It encourages exploration and discovery, enhances critical thinking and problem-solving skills, and enriches life experiences. Through perpetual education, you become an active participant in your personal development journey, continuously learning and growing as an individual.
Embracing the power of perpetual education and incorporating it into our daily lives can lead to personal fulfilment, professional success, and an enriched understanding of the world. As we navigate the rapidly changing landscapes of life and work, let us remember that learning never exhausts the mind; instead, it ignites it. Let us harness this power and continue on our perpetual education journey.
Conclusion
In conclusion, the power of perpetual education is a transformative force, personally and professionally. Its value extends beyond attaining degrees and qualifications to the lifelong journey of learning, growing, and evolving. It is an empowering concept that shapes our careers, nurtures our curiosity, and propels us towards continuous growth. As we venture into the future, let us embrace perpetual education and unlock its limitless potential.
Also, learn: Ai Wave In Education