Embracing the AI Wave: Unlocking New Possibilities in Education
May 12, 2023

Posted by:

Oyesh

Category:

Technology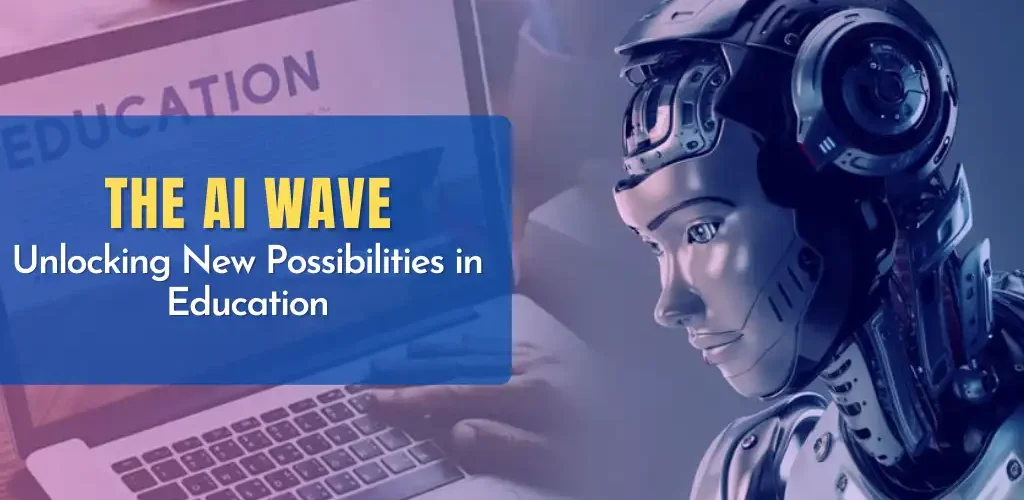 In recent years, and the transformative potential of artificial intelligence (AI) has captured the imagination of industries worldwide. However, one sector that stands to benefit immensely from the AI wave is education. With the potential to revolutionize teaching methods, personalize learning experiences, and bridge gaps in understanding, AI is unlocking new possibilities in education like never before. In this blog post, we will explore how AI is reshaping the educational landscape and how schools, educators, and students can embrace the AI wave to unlock these exciting new opportunities.
The Rise of the AI Wave in Education
What is the AI Wave in Education?
The AI wave in education refers to the growing adoption of artificial intelligence technologies and methodologies in teaching and learning. This trend encompasses many AI-powered tools and applications, from adaptive learning platforms and intelligent tutoring systems to automated assessment and grading solutions.
Driving Factors Behind the AI Wave
The rapid growth of the AI wave in education can be attributed to several factors:
1. Technological advancements: The continuous development of AI technologies, such as machine learning, natural language processing, and computer vision, has made it possible for developers to create more sophisticated and effective educational tools.
2. Increased access to data: As more schools and institutions adopt digital platforms, there is an ever-growing wealth of data available for AI systems to analyze and use to optimize learning experiences.
3. Demand for personalized learning: Today's students and educators seek more personalized and tailored learning experiences, which AI-driven tools can provide by adapting to individual learners' needs and preferences.
4. Need for efficient resource management: AI can help educational institutions optimize their resources, such as teachers' time and school budgets, by automating routine tasks and identifying areas for improvement.
Unlocking the Possibilities: AI Applications in Education
Personalized Learning and Adaptive Curriculum
One of the most promising aspects of AI in education is its ability to personalize learning experiences. AI-powered systems can analyze students' performance, learning styles, and preferences to create individualized learning paths. This adaptive approach allows students to learn at their own pace, focusing on their strengths and addressing their weaknesses. Furthermore, AI-driven platforms can continually modify the curriculum based on student's progress, ensuring they are always engaged and challenged.
Intelligent Tutoring Systems
Intelligent tutoring systems (ITS) are AI-driven applications designed to provide personalized instruction and feedback to students, simulating the experience of one-on-one tutoring. These systems can assess a student's understanding of a topic, provide targeted guidance, and offer real-time feedback without constant teacher intervention. With the help of ITS, educators can focus on developing higher-order skills and engaging in more meaningful interactions with their students.
Automated Assessment and Grading
AI can significantly streamline the assessment and grading process by automating these time-consuming tasks. By leveraging machine learning algorithms, AI systems can analyze students' responses to various types of questions, such as multiple-choice, short-answer, and even essay questions, with remarkable accuracy. This automation saves teachers valuable time and ensures a more objective and consistent evaluation of students' performance.
Enhancing Teacher Professional Development
AI can play a vital role in supporting teacher professional development by identifying areas for improvement and recommending targeted training programs. In addition, AI-driven systems can analyze teachers' performance data and student outcomes to pinpoint specific areas where educators may need additional support or resources. This personalized approach to professional development can help teachers hone their skills and enhance their teaching effectiveness.
Preparing for AI wave in education: What Educators and Institutions Can Do
AI wave in education Embracing a Growth Mindset and Lifelong Learning
As AI reshapes the educational landscape, educators and institutions must adopt a growth mindset and embrace lifelong learning. By staying up-to-date with the latest developments in AI and related technologies, teachers can better understand how to effectively integrate these tools into their classrooms. In addition, professional development opportunities, workshops, and conferences focused on AI in education can help educators build their knowledge and skills in this rapidly evolving field.
Collaborating with AI Experts and Developers
To harness the full potential of AI-driven tools, educational institutions should actively collaborate with AI experts, developers, and researchers. Schools can ensure that AI applications are tailored to their students and teaching staff's unique needs and requirements by fostering partnerships between educators and technologists. Such collaborations can also facilitate the exchange of ideas, leading to the development of innovative solutions that can transform the educational experience.
Ensuring Ethical and Responsible AI Implementation
The integration of AI in education comes with its own set of ethical considerations and challenges. Ensuring data privacy, addressing biases in AI algorithms, and promoting digital equity are critical factors educators and institutions need to consider when adopting AI-driven solutions. By establishing clear guidelines and policies for the ethical use of AI, schools can create a more inclusive and responsible learning environment for their students.
Overcoming the Challenges: The Road Ahead for AI in Education
While the AI wave in education promises a wealth of opportunities, it also presents several challenges that must be addressed to ensure its successful implementation.
AI wave in education Bridging the Digital Divide
The digital divide, or the gap between those who have access to digital technologies and those who do not, can exacerbate educational inequalities if not appropriately addressed. As AI-driven tools become more widespread, educational institutions must ensure that all students have equal access to these resources regardless of their socioeconomic background. By investing in digital infrastructure and promoting digital literacy, schools can work towards bridging the digital divide and fostering a more equitable learning environment.
Managing Teacher Resistance and Skepticism
Integrating AI-driven tools into the classroom may be met with resistance or scepticism from some educators, who may view these technologies as a threat to their profession or question their effectiveness. To overcome this challenge, schools must invest in ongoing professional development and provide support to help teachers understand the benefits and potential of AI in education. In addition, by fostering a culture of collaboration and open-mindedness, educational institutions can create an environment where AI-driven tools are viewed as valuable allies rather than adversaries.
Balancing AI and Human Interaction
While AI has the potential to significantly enhance the educational experience, it is essential to remember that human interaction remains a vital aspect of the learning process. Teachers play a crucial role in fostering social-emotional learning, critical thinking, and creativity – skills not easily replicated by AI. As such, educators and institutions must balance leveraging AI-driven tools and maintaining the human touch in their classrooms.
Conclusion
The AI wave in education presents many possibilities for revolutionizing teaching and learning. By embracing AI-driven tools, adopting a growth mindset, and addressing the challenges ahead, educators and institutions can unlock new options and pave the way for a more personalized, engaging, and practical learning experience. As we continue to explore the potential of AI in education, we must work together to ensure that these advancements are harnessed responsibly and inclusively to create a brighter future for learners worldwide.
The Future of AI in Education: Envisioning New Horizons
As the AI wave continues to gain momentum, educators, institutions, and policymakers must envision future possibilities and advancements in education. By proactively considering the direction in which AI technologies are headed, stakeholders can better prepare for the opportunities and challenges.
Democratizing Access to High-Quality Education
One of the most promising prospects of AI in education is its potential to democratize access to high-quality learning experiences. By utilizing AI-driven tools and platforms, students from diverse backgrounds and locations can have the opportunity to learn from top-notch educational resources and experts. This increased accessibility can help break down barriers to education and empower learners worldwide to reach their full potential.
Cultivating 21st-Century Skills
As the job market evolves and demands more complex skill sets, the education sector must adapt and equip students with 21st-century skills, such as critical thinking, problem-solving, collaboration, and creativity. AI-driven tools can play a pivotal role in developing these skills by offering personalized learning experiences, fostering collaboration through social learning platforms, and supporting project-based and experiential learning.
Lifelong Learning and Continuous Skill Development
In an ever-changing world, lifelong learning and continuous skill development cannot be overstated. AI-powered tools can facilitate this process by providing personalized learning recommendations, tracking skill development over time, and offering targeted resources for self-paced learning. By integrating AI-driven tools into the lifelong learning journey, individuals can continually adapt to the changing demands of the job market and stay competitive in their careers.
Enhancing Accessibility for Learners with Special Needs
AI holds great potential to enhance the learning experiences of students with special needs, such as those with learning disabilities, physical impairments, or cognitive challenges. AI-powered tools can provide customized learning experiences tailored to the unique needs of these learners. For example, speech-to-text and text-to-speech technologies can make learning materials more accessible for students with hearing or visual impairments. AI-driven tools can also support students with learning disabilities by identifying areas of difficulty and offering targeted support and resources.
Final Thoughts
The AI wave in education undeniably transforms how we teach, learn, and engage with knowledge. As we continue to embrace and harness the power of AI, it is crucial to remain mindful of the challenges, opportunities, and ethical considerations that come with integrating these technologies into the educational experience. By working collaboratively and proactively, educators, institutions, and policymakers can ensure that the AI wave unlocks new possibilities for learners worldwide, creating a more inclusive, adaptive, and engaging educational landscape for future generations.
You can check out our exclusive courses below:
Data Science Course Training in Hyderabad

Data Science Course in Vijayawada