How To Improve Your Telephonic & Face To Face Interview Skills?
December 7, 2022

Posted by:

Vidal International

Category:

Job Seekers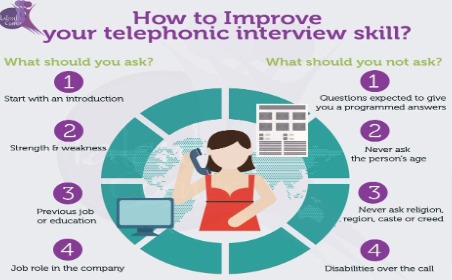 You have the opportunity to highlight your advantages and persuade any supervisor that you are the best qualified candidate for the position during a job interview. Even while you'll probably talk about your skills and technical expertise all throughout the interview, your interviewing techniques will also draw attention to your soft skills. Certain companies like VIDAL INTERNATIONAL uses some specific skill-set on "How to Improve your telephonic & face to face interview skills?"
What is required in an interview by the interviewer?
The interviewer will focus on more than just your responses to each question during the interview. They'll also be watching for your level of comfort and confidence, your communication skills, how your mannerisms is expressing, how you present yourself, and how well you'll fit in with the team.
Illustrative of how to interview well
Confidence –

In an interview, having self-assurance is crucial since it gives the interviewer more faith in your abilities, expertise, and experience.

Managing time-

Planning, organizing, and prioritizing your time are all part of having good time management abilities. By being on time and being conscious of the amount of you devote to responding to each question, you may demonstrate your time management abilities during an interview.

Verbal interaction-

The pitch and style of your voice, communicating clear and concise manner, being sincere and courteous, and employing active listening to reply correctly are all parts of verbal communication.

Nonverbal interaction-

The recruiter will pay close attention to your nonverbal cues during the whole conversation. Your body language provides details to the other individual throughout a conversation. 
How to strengthen interviewing techniques
Having a positive perspective and being organized in advance are crucial. You can utilize the following advice to improve your interviewing skills:
Utilize the job description correctly.
Do some research on the business.
For the interview, prepare.
Get your clothes ready in advance.
 Pay attention to the interviewer and endeavor to have an open mind.
Understand how to react when you need a moment to ponder.
Conduct a formal informative interview.
Construct inquiries for the interviewer.
Be kind to everyone you encounter.
How to improve telephonic skills?
We've all experienced anxiety and jitters while answering the phone at some time in our lives. Your job path may in certain situations be determined by your phone skills. The first barrier to overcome in order to land your ideal job is frequently a telephone interview.
Listed below are 7 directions for developing your telephonic skills
Knowing the target audience– Each caller to you has a unique relationship with you. You can improve every phone contact and forge stronger connections by understanding your intended audience and tailoring your approach to suit them.
Examine the Telephone Skills You Need to Develop at Work–  Now is a good time to come up with some phone calls for the office. Consider more carefully why you genuinely need to call and what your company, small business, or professional networks will gain from this.
Consider Your Nonverbal Communication- Vocal tone can indicate whether or not someone is interested. Utilize your nonverbal communication abilities while on the phone to maintain sounding genuine, which is what people want to hear. Turn your call to reality with facial emotions, gestures, and movement.
Receiving and answering professionally – It's always a good idea to introduce yourself and your business in your welcome to calm the client and allow them to understand who you are. ⁠ ⁠
 Precise Planning- Write out your primary argument, concerns, and objectives! ⁠ Make sure you're working through your subjects systematically by keeping your thoughts next to you and marking each one off with a pen.
Staying calm– Everyone has anxiety and makes errors, but the secret to improving your telephone abilities is to concentrate intensely on your objectives while practicing and adjusting with a development mindset.
Play-act the crucial calls- Using role-playing games to improve your telephone abilities may be one of the best strategies. You'll function better here on call and begin to develop long-term phone skills if you spend a few seconds to calmly practice what you intend to say aloud.
FAQ's on How to Improve your telephonic & face to face interview skills?
What the Interviewer Is Looking For?
How much you're aware of yourself

Your gut feelings or your character attributes
What you shouldn't say?
Replies that are too long or disorganized.

Absence of reaction.

Boasting.
Conclusion
This is all about How to Improve your telephonic & face to face interview skills? I am hopeful that the article answered your doubts.
If you're looking forward to improve your soft skills even better, connect with us @ VIDAL INTERNATIONAL on 91-81 8680 8680.